See on Scoop.it – Science Communication from mdashf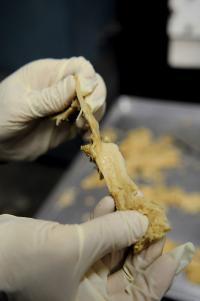 A new production plant near Columbia is testing whether it will be able to market a product that looks and tastes like chicken but has no actual chicken in it. It is part of an expansion by vegan meat company Savage River Inc. for its Beyond Meat brand, using technology licensed from the University of Missouri.
The plant is producing a chicken substitute made of soy protein, pea protein and carrot fiber. The dry ingredients are mixed with water and heated. The process is designed to create a plant-based product that not only tastes like chicken but also shreds like meat and chews like chicken.
The plant in Columbia is a combined effort from entrepreneur Ethan Brown and two University of Missouri food scientists who have worked for about two decades to get the "texturized vegetable protein" just right. "Our very first attempts were total failures," said Harold Huff, senior research specialist in biological engineering. "For it to appeal to us, when all is said and done, it has to chew right."
Fu-Hung Hsieh, biological engineering and food science professor, said the scientists figured out how to form the fibers in the 1990s but couldn't make the product consistent. A research grant allowed them to use more ingredients in larger batches, which stabilized the process. Soy is the base because of its availability and affordability and because some people are sensitive to wheat gluten, he said.
See on www.news-leader.com