See on Scoop.it – Science Communication from mdashf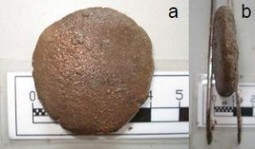 Two thousand years ago, people could not go to the nearest pharmacy for Cold-Eeze, but they appear to have concocted their very own zinc remedy, according to a new analysis of ancient remnants.
Scientists have characterized the mineralogical and chemical ingredients of medicine from a 2,200-year-old shipwreck, revealing new insights into the pharmaceutical practices of the ancient world.
A number of small, airtight tin containers thought to contain substances for therapeutic use were recovered from the remains of the shipwreck, discovered off the coast of Italy in the late 1980s. When scientists later unsealed one of the small containers, they found six well-preserved, grey tablets, each approximately the shape of a circular makeup sponge.
A preliminary DNA analysis of the tablets in 2010 had revealed around a dozen herbal components, including carrots, parsley and wild onion, bound by clay. However, the total composition and medicinal characteristics remained unknown until now.
To explore potential medicinal uses, researchers employed a combination of analytical techniques, including mass spectrometry, X-ray diffraction, and spectroscopy.
They found that inorganic elements accounted for 80% of the total sample. Zinc, in the form of hydrozincite and smithsonite minerals, was by far the most abundant component, comprising three-quarters of the inorganic elements. Organic components, like wheat flour, vegetable and animal fats, beeswax, pollen grains, and other herbs accounted for the other 20%. "The research highlights the presence of zinc compounds as the active ingredients," says Gianna Giachi, a chemist at the Superintendence for the Archaeological Heritage of Tuscany, in Florence, Italy.
See on blogs.nature.com