See on Scoop.it – Science Communication from mdashf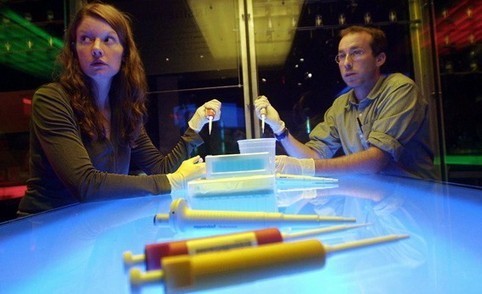 There are lots of popular articles I could point to, but let's start with a recent series in Time that included eight online features and the Dec. 13 cover story, ominously titled "The DNA Dilemma."
The series, written by Bonnie Rochman, is thoroughly reported, balanced, and full of fascinating personal stories about children whose genomes have been sequenced. It's also timely: The primary question Rochman raises—how much information is too much information?—has been dominating commentaries about genetic testing in the medical literature.
But this is the wrong question, or at least one that's becoming increasingly irrelevant. The personal genomics horse has bolted, and yet many paternalistic members of the medical community are still trying to shut the barn door. In doing so, they're fostering a culture of DNA fear when what we really need is a realistic and nuanced genetics education.
There are many kinds of genetic tests, but most of the hoopla revolves around whole-genome sequences—the impossibly long, letter-by-letter readouts of the DNA inside the nucleus of each of your cells. In 2003, the first human genome was fully sequenced for just shy of $3 billion. Today a doctor can order yours for around $10,000.
Though dropping every day, the cost is still prohibitive enough that most people who get their genome sequenced are part of a medical research study. But the technology is beginning to seep into everyday clinical settings, especially for children with rare diseases. In either situation, the doctor or researcher might inadvertently discover genomic information—known as "incidental findings" in the scientific literature and "dark DNA secrets" in one of the Timearticles—that has nothing to do with the child's sickness or the study at hand. Hence the big dilemma: How much do patients want to know? How much do they need to know?
See on www.slate.com