See on Scoop.it – Science Communication from mdashf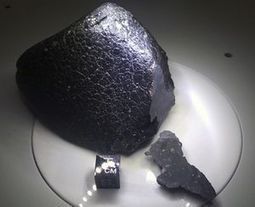 A rare Martian meteorite recently found in Morocco contains minerals with 10 times more water than previously discovered Mars meteorites, a finding that raises new questions about when and how long the Mars had conditions suitable for life.
The rock is believed to be similar to those studied by NASA's Spirit and Opportunity rovers, which landed on opposite sides of Mars in 2004 to look for signs of past water. Spirit is no longer operational, but in August Opportunity was joined by the new and more sophisticated Curiosity rover, which will be searching for chemistry and environmental conditions necessary to support microbial life.
The meteorite, known as Northwest Africa (NWA) 7034, is the second-oldest of 110 named stones originating from Mars that have been retrieved on Earth. Purchased from a Moroccan meteorite dealer in 2011, the black, baseball-sized stone, which weighs less than 1 pound, is 2.1 billon years old, meaning it formed during what is known as the early Amazonian era in Mars' geologic history. The only older Mars meteorite found so far is the 4-billion-year-old Allan Hills 84001 Antarctica stone that was the source of speculation about microfossils in 1996.
Early Mars was believed to be warm and wet, but the planet lost most of its atmosphere and its surface water to become a cold, dry desert that appears today.
See on news.discovery.com