See on Scoop.it – Science Communication from mdashf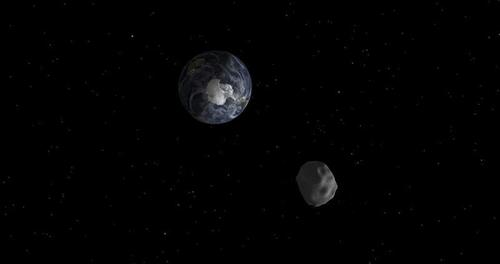 An asteroid half the size of a football field passed closer to Earth than any other known object of its size on Friday, the same day an unrelated and much smaller space rock blazed over central Russia, creating shock waves that shattered windows and injured 1,200 people.
Asteroid 2012 DA14, discovered just last year, passed about 17,200 miles from Earth at 2:25 p.m. EST (1925 GMT), closer than the networks of television and weather satellites that ring the planet.
"It's like a shooting gallery here. We have two rare events of near-Earth objects approaching the Earth on the same day," NASA scientist Paul Chodas said during a webcast showing live images of the asteroid from a telescope in Australia.
Scientists said the two events, both rare, are not related -the body that exploded over Chelyabinsk, Russia, at 10:20 p.m. EST Thursday (0320 GMT Friday) came from a different direction and different speed than DA14.
"It's simply a coincidence," Chodas said.
NASA has been tasked by the U.S. Congress to find and track all near-Earth objects that are .62 miles in diameter or larger.
The effort is intended to give scientists and engineers as much time as possible to learn if an asteroid or comet is on a collision course with Earth, in hopes of sending up a spacecraft or taking other measures to avert catastrophe.
About 66 million years ago, an object 6 miles in diameter smashed into what is now the Yucatan Peninsula in Mexico, leading to the demise of the dinosaurs, as well as most plant and animal life on Earth.
Scientists estimate that only about 10 percent of smaller objects, such as DA14, have been found.
"Things that are that tiny are very hard to see. Their orbits are very close to that of the Earth," said Paul Dimotakis, a professor of aeronautics and applied physics at the California Institute of Technology in Pasadena.
See on www.newsdaily.com