See on Scoop.it – Science Communication from mdashf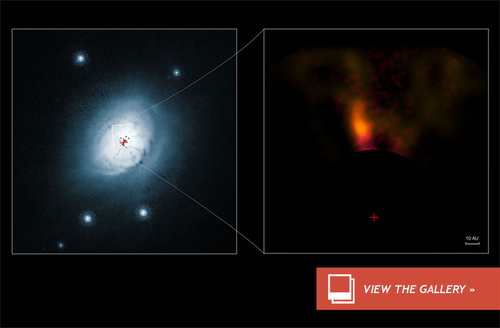 Acquired by the European Southern Observatory's Very Large Telescope (VLT), the infrared image above (right) shows a portion of the disk of gas and dust around the star HD100546, located 335 light-years away in the constellation Musca. By physically blocking out the light from the star itself by means of an opaque screen — seen along the left side of the image — the light from the protoplanetary disk around HD 100546 can be seen, revealing a large bright clump that's thought to be a planet in the process of formation.
If it is indeed a baby planet, it's a big one — as large as, or perhaps even larger than, Jupiter. A candidate protoplanet found in a disc of gas and dust around young star HD100546 (ESO).
This does raise an interesting question for astronomers because if itis a Jupiter-sized planet, it's awfully far from its star… at least according to many current models of planetary formation. About 68 times as far from HD100546 as we are from the sun, if this planet were in our solar system it'd be located deep in the Kuiper Belt, twice as far as Pluto. That's not where one would typically expect to find gas giants, so it's been hypothesized that this protoplanet might have migrated outwards after initially forming closer to the star… perhaps "kicked out" by gravitational interaction with an even more massive planet.
See on news.discovery.com