See on Scoop.it – Science Communication from mdashf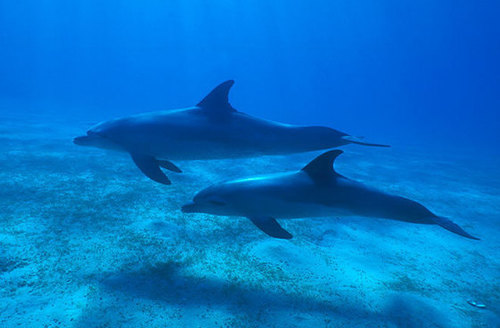 Bottlenose dolphins use signature whistles when they're separated.
Bottlenose dolphins call out the specific names of loved ones when they become separated, a study finds. Other than humans, the dolphins are the only animals known to do this, according to the study, published in the latest Proceedings of the Royal Society B. The big difference with bottlenose dolphins is that these communications consist of whistles, not words.
Earlier research found that bottlenose dolphins name themselves, with dolphins having a "signature whistle" that encodes other information. It would be somewhat like a human shouting, "Hey everybody! I'm an adult healthy male named George, and I mean you no harm!"
"Animals produced copies when they were separated from a close associate and this supports our belief that dolphins copy another animal's signature whistle when they want to reunite with that specific individual," lead author Stephanie King of the University of St. Andrews Sea Mammal Research Unit told Discovery News.
Captive bottlenose dolphins, however, as well as all of the wild ones, developed their own signature whistles that serve as names in interactions with other dolphins. "A dolphin emits its signature whistle to broadcast its identity and announce its presence, allowing animals to identify one another over large distances and for animals to recognize one another and to join up with each other," King explained. "Dolphin whistles can be detected up to 20 km away (12.4 miles) depending on water depth and whistle frequency."
See on news.discovery.com