See on Scoop.it – Science Communication from mdashf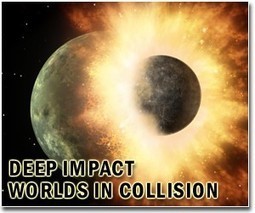 The world should unite to establish a defense system against space objects that threaten Earth, Russian Deputy Prime Minister Dmitry Rogozin says.
Rogozin, speaking Saturday at a ceremony marking Defender of the Fatherland Day in the Moscow suburb of Krasnogorsk, told members of his Rodina Party the effort should be undertaken under the umbrella of the United Nations, RIA Novosti reported.
The Russian leader said the threat from asteroids, meteorites, comets and other stray space objects should serve to "unite humanity in the face of a common enemy." "This system should become global and universal in its technical and political sense and is a matter of agreement in the framework of the United Nations," Rogozin said.
The call came as Russia is recovering from a Feb. 15 meteorite strike near Chelyabinsk in the Ural Mountains region that created a massive shock, blowing out windows, damaging thousands of buildings and injuring 1,200 people, mainly from flying glass.
More than 50 people were hospitalized and damage from the shock wave has been estimated at $33 million. Creating an effective protection against stray space objects is a task that no country, including the United States, would be able to be able to cope with alone, Rogozin said, asserting that no one system of aerospace defense on the planet could handle the threat.
The problem with current anti-missile systems and other aerospace defense technologies is that they're designed to track incoming objects launched from the ground, rather than those coming from space, Rogozin said.
To protect against such "cosmic enemies," he said, the world would need a system able to recognize the risk in advance. "The great space powers, including Russia, could make in-kind contributions with the technology and programs that have already been established," he said.
"We need to find such technical decisions, which we don't have now, such capabilities which could change the flight path of a dangerous space object at a long distance from the Earth or destroy it."
However, Rogozin added, if such a worldwide anti-asteroid system were to be established, some countries could use it as a pretext to deploy nuclear weapons in space, Interfax reported.
"An undesirable effect of this might be that, under the guise of countering asteroids, some countries, which I prefer not to name, might use this as a pretext for deploying nuclear weapons in outer space," he said.
Alexander Bagrov, a senior researcher at the Institute of Astronomy of the Russian Academy of Sciences, told the Voice of Russia such a worldwide defense system against space objects can be created.
See on www.spacedaily.com