See on Scoop.it – Science Communication from mdashf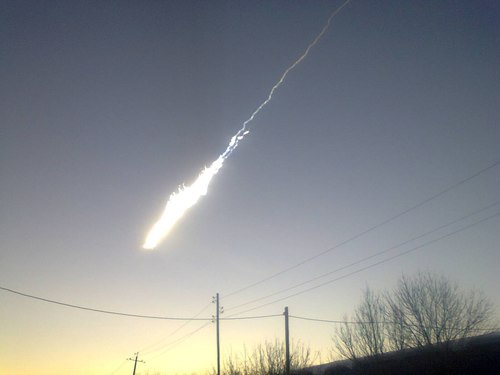 The meteorite on February 14th weighed about 10,000 tons. According to NASA, the power released during the explosion was equivalent to 500 kiloton, which is 30 times the power of the bomb that destroyed Hiroshima.
NASA experts describe the Chebarkul meteorite as the second largest since 1908, when a meteor hit Tunguska in Siberia. Such a meteor strike can be expected every 100 years, a NASA expert said.
Chelyabinsk meteorite fragments are already on sale on one of the most popular online auctions, Ebay. Not only the citizens of Russia are among the vendors but also Americans are involved.
Astronomers could not trace the Chelyabinsk meteor because this celestial body was approaching from the Sun, and telescopes did not see it in the sunshine, Deputy Director of the Sternberg Astronomical Institute at the Moscow State University Sergei Lamzin said. "It was impossible to detect it, because it was flying fromthe Sun. But if it was flying at night, our MASTER telescopes'network could have traced it", Lamzin said to journalists. MASTER telescopes can observe bursts in the Universe, watch comets, meteors and space debris. The system includes telescopes, located in the Tunka valley, Moscow region, Kislovodsk, in the Urals and in Blagoveschensk.
In the period of time around the fall of the Chelyabinsk meteor, the Russian Meteor weather satellite registered an increase in the concentration of water molecules in the orbit that possibly indicates that the space "guest" was a comet.
Researchers say the meteorite exploded into at least seven large pieces and hundreds of small ones. One of the bigger fragments plunged into the local Chebarkul Lake, forming an 8-meter ice hole.
REPORT is here: http://tinyurl.com/b8tbrkh
See on asterisk.apod.com