See on Scoop.it – Science Communication from mdashf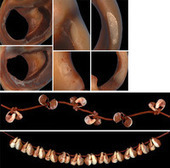 The 2013 Academy Awards were, as always, as much about making appearances as about making films, as red carpet watchers noted fashion trends and faux pas. Both Jessica Chastain and Naomi Watts wore Armani, although fortunately not the same dress. And Best Supporting Actress Anne Hathaway switched from Valentino to a controversial pale pink Prada at the last minute because her original dress looked too much like someone else's. Of course, no actress would be caught dead wearing the same style 2 years in a row. A new study of ancient beaded jewelry from a South African cave finds that ancient humans were no different, avoiding outdated styles as early as 75,000 years ago.
Personal ornaments, often in the form of beads worn as necklaces or bracelets, are considered by archaeologists as a key sign of sophisticated symbolic behavior, communicating either membership in a group or individual identity. Such ornaments are ubiquitous in so-called Upper Paleolithic sites in Europe beginning about 40,000 years ago, where they were made from many different materials—animal and human teeth, bone and ivory, stone, and mollusk shells—and often varied widely among regions and sites.
Even more ancient personal ornaments go back to at least 100,000 years ago in Africa and the Near East. But this earlier jewelry seems less variable and was nearly always made from mollusk shells. So some archaeologists have questioned whether these earlier ornaments played the same symbolic roles as the later ones, or even whether they were made by humans at all.
In a new study in press at the Journal of Human Evolution, a team led by archaeologist Marian Vanhaeren of the University of Bordeaux in France claims to have found evidence of a relatively sudden shift in the way that shell beads were strung. The beads were found at Blombos Cave in South Africa in archaeological layers dated between 75,000 and 72,000 years ago, during a time period marked by four distinct layers of artifacts called the Still Bay tradition. This tradition includes bone awls and sophisticated stone spear points and knives, as well as beads from jewelry: sixty-eight specimens of the southern African tick shell, Nassarius kraussianus, most found clustered together and thought to be part of individual necklaces or bracelets. All the shells are perforated with a single hole, and the team's microscopic studies—as well as experiments with shells of the same species collected near the site—have suggested that they were punctured with a finely tipped bone point.
See on news.sciencemag.org